Do Not Knock
Keep pesky door-to-door solicitors away with our Do Not Knock registry.
BEWARE: DOOR-TO-DOOR ENERGY SOLICITORS WILL COST YOU.
As a non-profit, NOPEC is different.
Many for-profit door-to-door energy companies will offer you a low intro-rate (and maybe a free gift) for signing up, only to raise your rates a few months later after you're locked into a long-term contract. Now that great deal you thought you were getting is costing you big time.
At NOPEC, we're here to help you save money. NOPEC will never knock on your door and pressure you to sign up, and there's no tricky contracts or gimmicks. By purchasing energy in bulk, we're able to pass the savings on to you. Our customers have the peace of mind of knowing they are getting competitively priced energy rates without the surprises.
Tired of unwanted door-to-door energy salespeople?
Stop for-profit solicitors from knocking on your door with NOPEC
NOPEC's Do Not Knock program is a free service offered by your local community and NOPEC to stop solicitors from knocking on your door. This means that when for-profit, door-to-door salesmen obtain a permit to solicit in your neighborhood, they'll also receive this list that lets them know which houses and businesses they can't go to.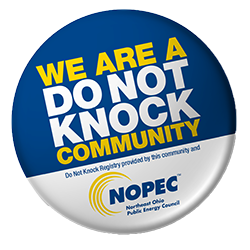 It's easy to get started with the Do Not Knock Program.
First, check to see if you live in a NOPEC Do Not Knock community. Then, sign up today to help stop unwanted door-to-door solicitors from coming to your door. When you fill out our form below:
Your address will be added to a list of homes and businesses that for-profit solicitors are not allowed to visit. This list is updated monthly.
You'll receive a Do Not Knock window cling in the mail to a place near your front door to remind solicitors they are not welcome.
You'll receive an automatic reminder each year to renew your Do Not Knock Registry status.
What to Do If a Solicitor Knocks on Your Door After You Sign Up?
Once your address is listed on your community's Do Not Knock registry, you should not receive any more for-profit salesman at your door. However, if a for-profit salesman does come to your door, tell them you're registered with the Do Not Knock program.
If the salesman persists, you can inform them you'll be reporting them to the local police department, which could result in fines or worse.
If it's a utility salesman, you can also file a report with the Public Utilities Commission of Ohio.
Are you a resident in a Do Not Knock Community?
NOPEC's Do Not Knock Program is currently located in these communities.
Alliance
Auburn Township
Brecksville
Brook Park
Eastlake
Glenwillow
Highland Hills
Maple Heights
Mentor-on-the-Lake
Middlefield Village
New Franklin
Newburgh Heights
Northfield Center
Parma
Reminderville
Roaming Shores
Tiffin
University Heights
Warren
Wickliffe
Willowick

Don't see your community listed? Fill out the form below anyway and select "City Not Listed." We'll contact you with information on how to get the ball rolling on bringing NOPEC's Do Not Knock program to your community.
Want to opt-out of the Do Not Knock program?