Did you receive a letter from NOPEC?
Here's what it is and what you should do about it.
What is this letter and what do I do about it?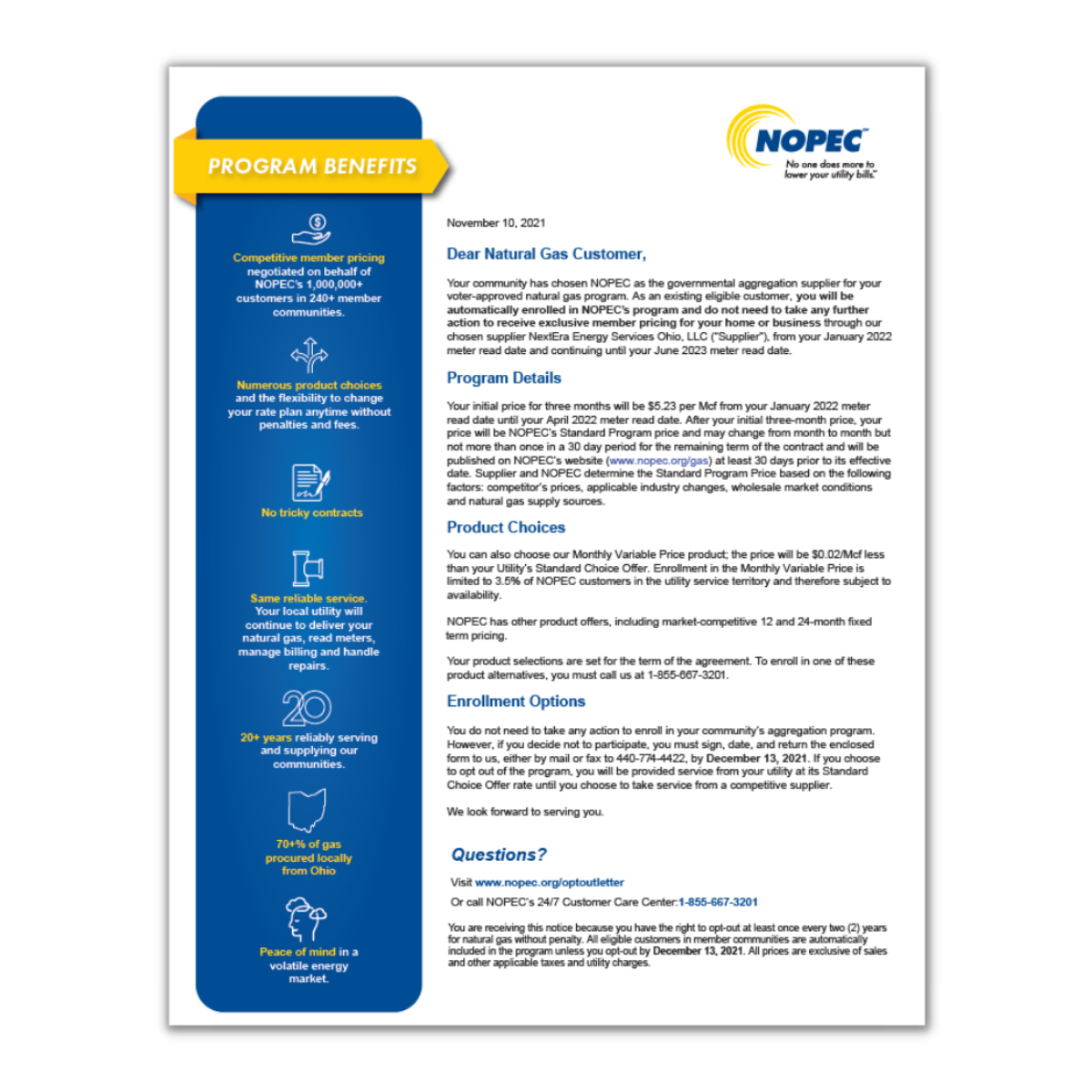 What is this letter?
The letter you received is referred to as an enrollment letter and includes information about NOPEC's natural gas aggregation program, rate options, and a form to opt-out of NOPEC's electric and/or natural gas services if desired.
Why are you receiving an enrollment letter?
You received an opt-out form because you live in a NOPEC community. When a community joins NOPEC, all eligible accounts within that community are automatically enrolled as a part of the energy aggregation program. To opt-out, a resident must return the opt-out form enclosed with their enrollment letter.
What should you do with this letter?
You have two options: do nothing and let NOPEC negotiate lower electric rates and gas rates exclusively for NOPEC customers, or, opt-out. If you live in a NOPEC community, you have the option to choose not to participate, however, our bulk buying strategies, member benefits, residential energy-saving programs, and small business initiatives have kept our NOPEC communities satisfied and growing.
NOPEC is NOT an extra charge on your utility bill.
In Ohio, all utility bills are split into two costs: a supplier charge and a transmission charge. NOPEC is listed on your bill as your supplier charge and includes the cost of the natural gas or electricity that you have used for that billing period. Your utility company will be listed as your transmission charge.
Even if you do not choose to remain with NOPEC for your energy supply, you would still have to pay an energy supplier for the amount of energy you use per month.
UNDERSTANDING YOUR UTILITY BILLS
Why stay with NOPEC?
Competitive rates are just one way you can save as a NOPEC customer.
We buy in bulk so we can offer competitive natural gas and electricity rates that fit your budget.
Our Energy Savings Center provides residents with energy-saving tips, home maintenance reminders, and exclusive giveaways each month.
As a non-profit, NOPEC protects Ohio residents from unfair rate increases and terms by advocating for consumer-friendly legislation.
You'll NEVER be charged for leaving NOPEC or switching to another product in our program.
We have awarded $40 million in community grants to fund energy-efficiency improvement projects in city halls, parks, recreation centers, and more across Ohio.
NOPEC Customer Reviews
"I ran my air conditioning almost 24/7 for two months straight this summer because when I'm not home my dog stays in my room. Since NOPEC has been on my electric bill, my bills have been the smallest I've ever had."
Darlene C.
"I love all their programs and the tips they make available to me."
Meg R.
Frequently Asked Questions
When a community joins NOPEC, all eligible accounts within that community are automatically enrolled as a part of the aggregation program, unless a resident chooses to opt-out by returning the opt-out card enclosed with their enrollment letter.
As a NOPEC customer, you pay for the electricity or natural gas supply that you use. There are no additional fees. NOPEC receives no public funds, and its member communities are not charged any dues or fees. The chair and members of the Board of Directors serve without compensation. NOPEC's administrative expenses, such as the cost of the opt-out mailings, staffing, and expenses, are paid by fees from the energy suppliers. The budget is approved once a year by the General Assembly. 
NOPEC is a Council of Governments representing our member communities. We give all of our customers an opportunity to opt-out of NOPEC at anytime without any termination fees or penalties. To control operating costs, we do not pay postage costs to mail in an opt-out notice.
All consumers who do not opt-out are enrolled for a period of two years for natural gas and three years for electricity, after which they can be given another opportunity to opt-out. For more information, contact NOPEC's Customer Care Center at 855.667.3201 (855-NOPEC-01).